White Pumice Rock ♦ Flower Baskets • Pea Gravel
White pumice rock offers a nice touch to any landscaping project. White pumice rock can provide a surface for pathways, walkways, driveways and border gardens. You can use white pumice rock for your construction and landscaping purposes. Did you know you save money using pumice rock? Pumice rock is cheaper than most other types of rock.
Here's another benefit of white or red pumice rock. They both smooth concrete and are resistant to tough weather. White pumice rock will give your cement a polished look. We carry high quality white pumice rock. White pumice rock can be used in flower boxes, planter boxes and hanging baskets. You can buy them by the bucket or box full. Mix yourself or we'll mix it for you. Don't forget we also are a huge supplier of Pea Gravel in both King and Pierce Counties!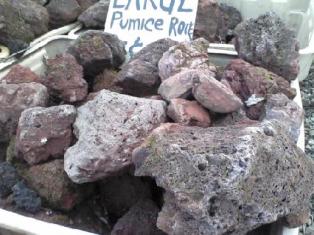 Available in Pea Gravel Size
Sizes Include 1/4 to 3/8
Gives your Landscape a White Look
Makes Light Weight Mixed Topsoil
Available in Bulk as a Potting Soil
Mix with Other Ingredients
Contact your Puget Sound Landscaping Supplier at 253-466-4686.
River Road Landscaping and Supplies
6620 River Road
Puyallup, WA. 98371

Office: 253-466-4686
Fax: 253.841.7069
E-Mail: info@riverroadlandscapesupply.com