Red Pumice Rock ♦ Beauty Bark
Red pumice rock is a decorative alternative to beauty bark. Red pumice rock suppresses weed growth more than beauty bark. You don't have to replace red pumice rock every year. It's a permanent landscaping addition that stays the same color. Red pumice rock doesn't fade. It keeps your landscaping looking new and updated. You don't have to spend on replacing beauty bark.
We carry a large supply of red pumice rock. You can use it to decorate your gardens, walkways and pathways. Another common use is for inside fish tanks. It's used as decorative rock in corporate settings. You won't have to worry about constant maintenance. Improve the look of your landscaping with our red pumice rock.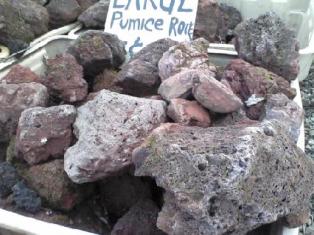 Low Maintenance Needed
Year-Round Decorative Use
Sand Grade Size of 1/16
Small Pumice Rock from 1/4 to 3/8 Size
Standard Medium Grade from 1/2 to 1 1/4
Large Red Pumice Rock
Buy Bulk or by the Pound
Contact your Puget Sound Landscaping Supplier at 253-466-4686.
River Road Landscaping and Supplies
6620 River Road
Puyallup, WA. 98371

Office: 253-466-4686
Fax: 253.841.7069
E-Mail: info@riverroadlandscapesupply.com