Cedar Fencing ♦ Landscaping Materials
Cedar fencing will give your garden, walkway or border a nice finish. Cedar fencing is easy to install and handle. Cedar fencing can be used for a variety of landscaping projects. Landscaping projects include gazebos, gardens and decking. Cedar fencing can serve as a border to walkways and pathways.
We offer miscellaneous cedar fencing. You can buy it for $50 a bundle. It's available in lengths of 4-6 feet and 3 feet wide. We have cedar fencing for the busy hobbyist. Use it to build birdhouses, dog houses and more. Cedar fencing will give your landscaping project a rustic and natural look. Visit River Road Landscaping and Supplies for your cedar fencing needs.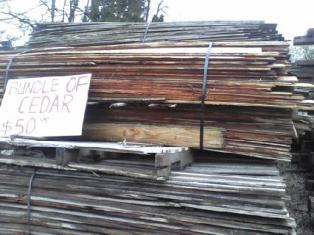 Compliments Any Type of Design
Easy to Install and Handle
Accepts a Wide Range of Finishes
Resists Moisture for a Longer Lasting Fence
Provides an Authentic Rustic Look
Contact your Puget Sound Landscaping Supplier at 253-466-4686.
River Road Landscaping and Supplies
6620 River Road
Puyallup, WA. 98371

Office: 253-466-4686
Fax: 253.841.7069
E-Mail: info@riverroadlandscapesupply.com